Popular searches
Categories
Learn & Achieve
Deliver Value
Collaborate & Lead
Make Better Decisions
Industry Knowledge
Live Well
Sub categories
Be more productive
Innovate
Learn & grow
Behavioural economics
Manage projects
Collaborate & influence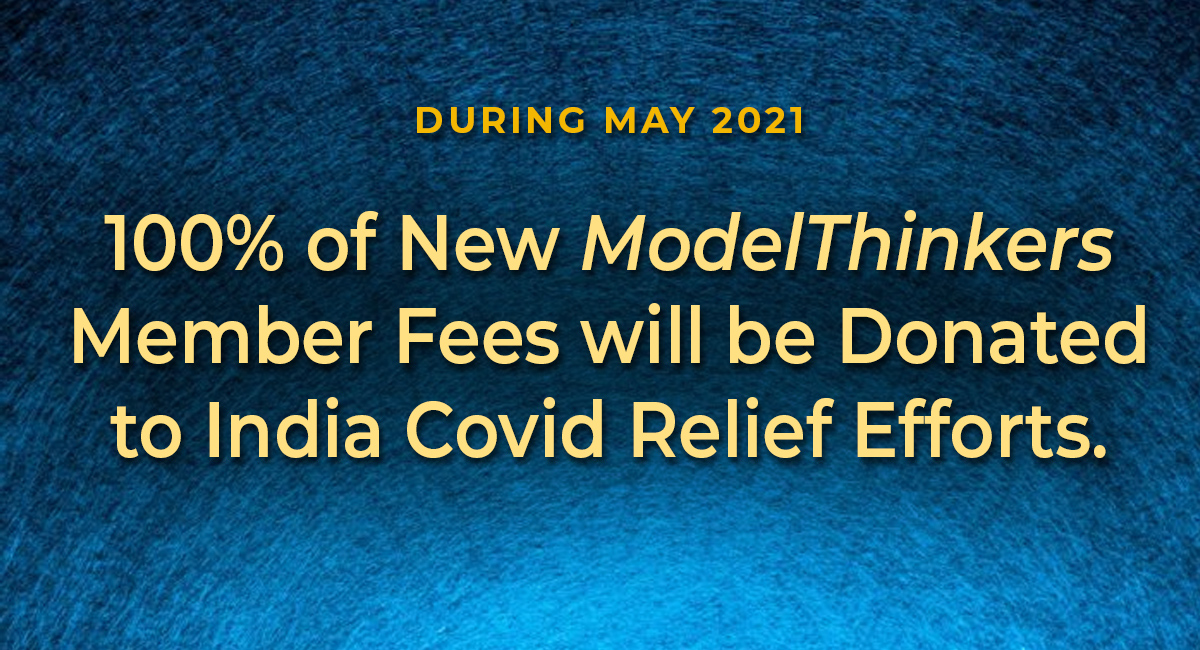 0
saved

151 views
The human tragedy unfolding in India calls for action.
To help, ModelThinkers will be donating 100% of new annual membership fees taken during May to India Covid relief efforts.
In other words, anyone joining ModelThinkers with a US$60 annual membership fee during May, will essentially be getting ModelThinkers free for a year, and have that US$60 donated to help support people in need in this growing covid hotspot.
Interested? Here's what to do:
Join ModelThinkers during May with a US$60 annual membership fee here.
Next, in early June, we will personally message you to confirm that we have made an equivalent US$60 donation on your behalf.
The US$60 will cover your first year — and you can decide whether to continue your subscription this time next year.
There are many non-profits doing wonderful work in India right now. Our criteria was to find something local, and where the maximum amount of our money would go to impact. In the end, we have chosen to donate to this GiveIndia collaboration between two grassroots Mumbai-based organisations — Youth Feed India and Helping Hands.
This initiative has been featured in the New York Times, Fast Company, Quartz, and in a number of local Mumbai news outlets for its focus on feeding and supporting some of the most vulnerable in this terrible crisis. Again, there were many options, but feel confident that this choice will ensure our donation will go to good use.
We thank you for your support in this project.




Share this Playbook with your network to be smarter, faster, together!
Premium content
Please do login or sign up to see premium contect
Subscription expired!
Please renew your subscription to access this feature.

My Notes