Popular searches
Categories
Learn & Achieve
Collaborate & Lead
Deliver Value
Make Better Decisions
Industry Knowledge
Live Well
Sub categories
Be more productive
Learn & grow
Behavioural economics
Innovate
Collaborate & influence
Manage projects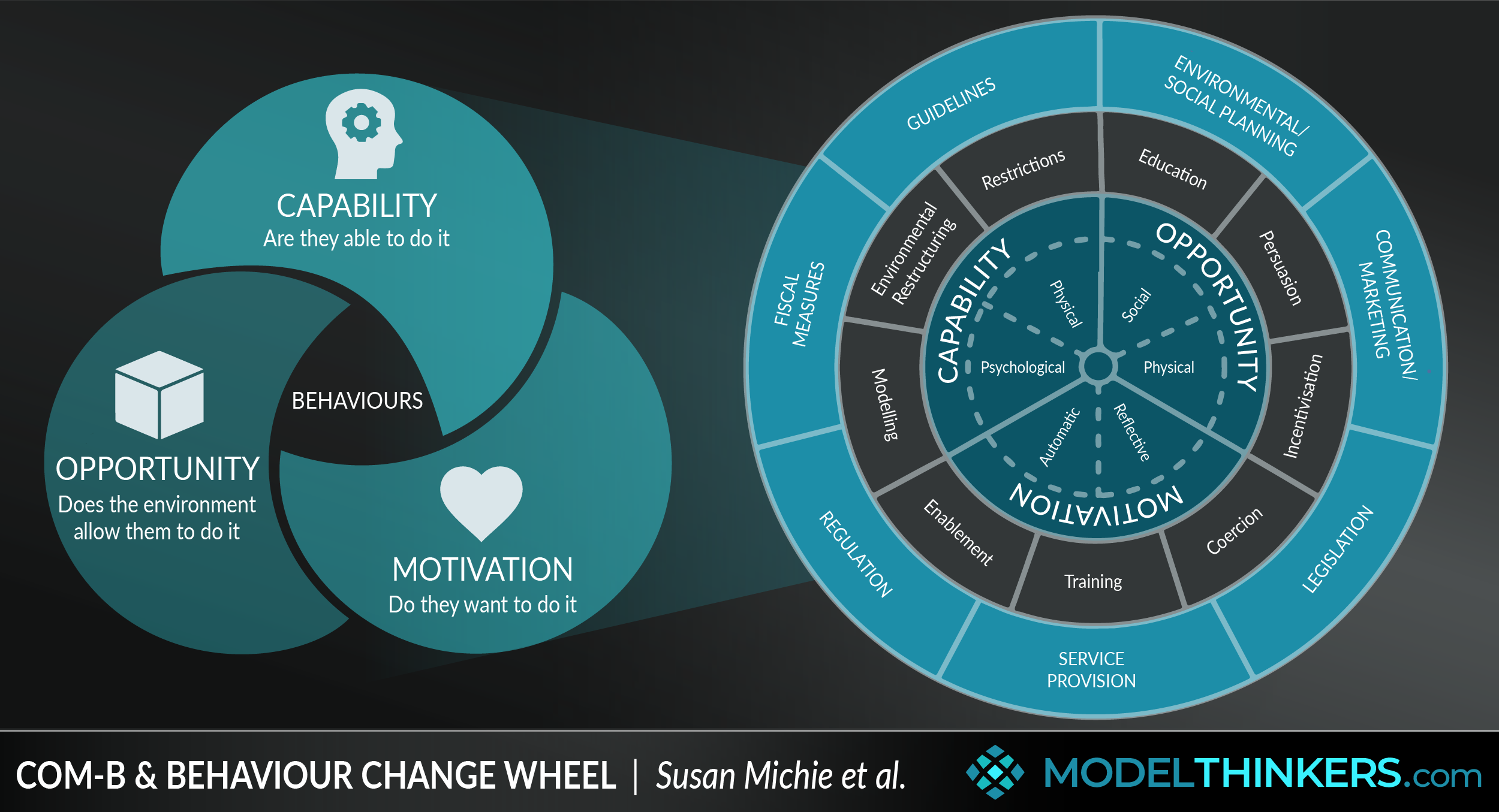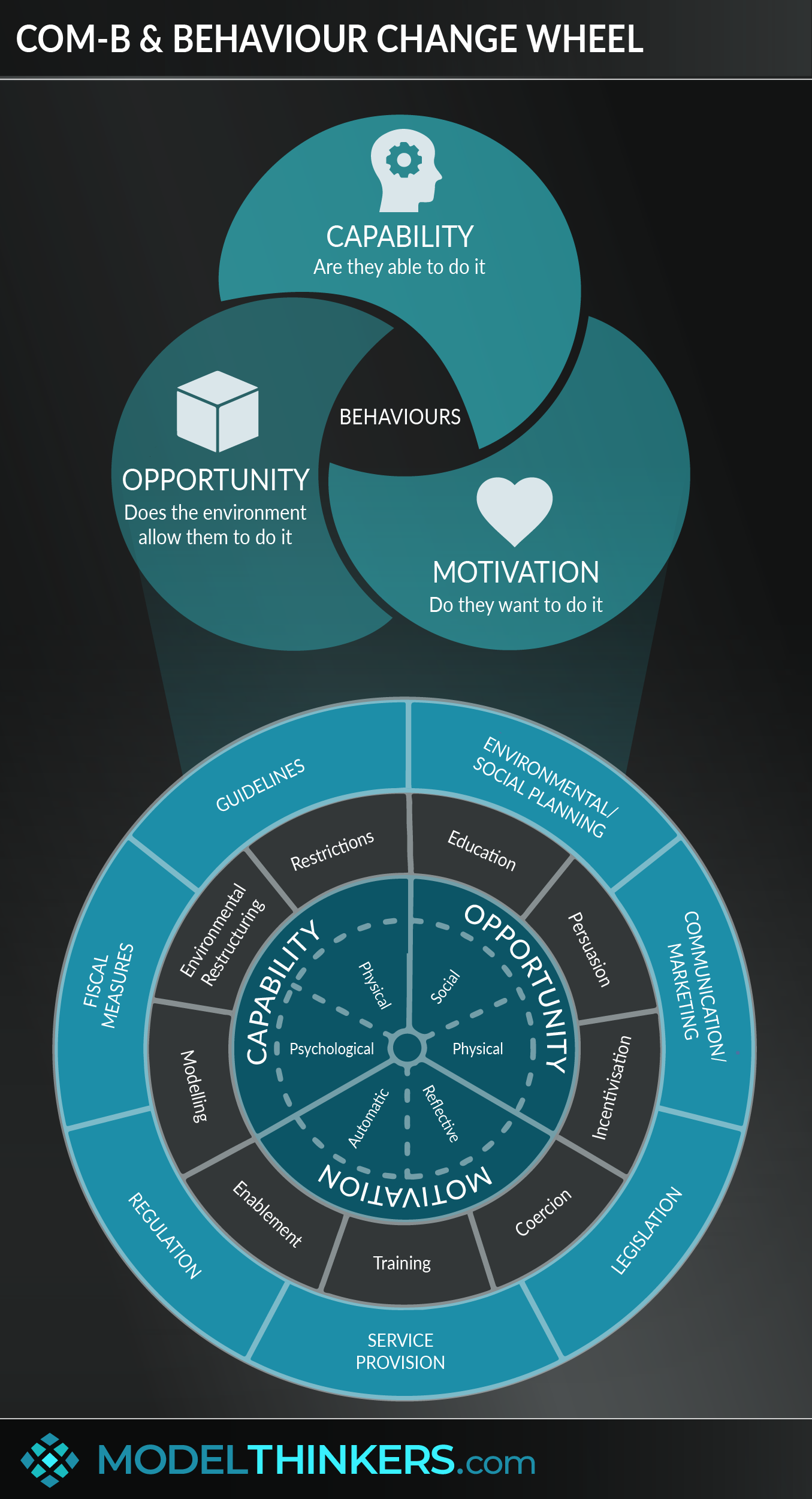 0

saved

9.8K views
Share this with your network




Share this with your network




Overview
Whether you're shaping the culture of a team, shifting customer behaviour as part of a product launch, or wanting to change and improve yourself, you'll need to understand the art and science of behavioural change. The Behaviour Change Wheel is a great place to start that journey because it distils impactful behavioural strategies from 19 existing models into a single framework.
The Behaviour Change Wheel (BCW) is a framework for describing, designing and evaluating behaviour change strategies. At its heart is the COM-B behaviour model, which posits that Behaviour occurs as an interaction between Capability, Opportunity, and Motivation.
USING COM-B.
COM-B forms the centre of the Behavioural Change Wheel and consists of three key elements that influence behaviour. COM-B might be enough for your needs, but if you want to go deeper you can explore two sub-elements for Capability, Opportunity and Motivation. Still want more? Then you can go further with the Theoretical Domain Framework (TDF) which cites 14 categories of behavioural elements. The COM-B sub-elements and TDF are mapped against COM-B below:

____

SUB- ELEMENTS

TDF

QUESTIONS TO EXPLORE RELEVANCE

C

A

P

A

B

I

L

I

T

Y

Physical - skills and knowledge such as operating equipment or tools.

Do they have the ability to adopt the target behaviours:

Are they aware of the behaviour and what it involves?

Do they know how to do it?

Do they have the understanding required to do it?

Do they have the skill, strength and stamina to do it?

Do they have the cognitive and perceptual skills do it?

Psychological - skills and knowledge such as decision-making.

Knowledge

Cognitive and interpersonal skills

Memory, attention and decision process

Behavioural regulation

O

P

P

O

R

T

U

N

I

T

Y

Physical - the environment, time and resources. E.g. giving up smoking by going to a place where smoking is not allowed.

Environmental context and resources

Do they have the opportunity to adopt the target behaviours:

Is it socially acceptable in their environment?

Do formal rules support it?

Are there cues, reminders, and nudges supporting them to do it?

Do they have sufficient time to do it?

Do they have access to the appropriate place to do it?

Do they have the appropriate resources such as money, tools, or equipment to do it?

Social - behaviour and expectations of peers and networks including cultural norms. E.g. giving up smoking with a support group of non-smokers.

M

O

T

I

V

A

T

I

O

N

Reflective - thought processes such as plans, beliefs and intentions. E.g. planning to stop smoking because of the health benefits.

Professional/ social role and identity

Beliefs about capabilities

Optimism

Beliefs about consequences

Intentions

Are they motivated to adopt the target behaviours:

How worthwhile do they think it is?

How much satisfaction or rewards do they expect to obtain from it?

How much do they think it will meet a need?

How well does it fit with their self-identity?

How strong is their intention around it?

How developed is their habit or routine around it?

How much do they prioritise it over the alternatives?

Automatic - more intrinsic such as emotional responses, desires, and impulses. E.g. physical response to the thought of smoking.
INTERVENTIONS AND POLICIES.
The middle circle on the wheel after COM-B captures types of interventions that can support the required behaviour change. The outer wheel represents policy classifications that such interventions might fall under.
The policy categories are environmental and social planning; communication and marketing; legislation; service proposition; regulation; fiscal measures; and guidelines. Perhaps a more practical lens, however, are the interventions which we've broken down further below:

INTERVENTION

DEFINITION

LINK TO COM-B & SUB ELEMENTS

Education

Informing and explaining to increase knowledge and understanding.

Capability - psychological.

Motivation - reflective.

Persuasion

Influencing to develop positive or negative feelings that stimulate action.

Motivation - reflective or automatic

Incentivisation

Establishing rewards and incentives.

Motivation - reflective or automatic

Coercion

Establishing punishments and costs.

Motivation - reflective or automatic

Training

Developing knowledge and skills.

Capability - psychological or physical.

Motivation - reflective or automatic.

Enablement

Increase means or reduce barriers to increase capability (beyond education and training) or opportunity (beyond environmental restructuring). E.g. surgery to reduce obesity or prostheses to promote physical activity.

Capability - psychological or physical.

Motivation - (indirectly) reflective or automatic.

Modelling

Providing a role model or example.

Opportunity - social.

Environmental restructuring

Changing the social or physical environment.

Opportunity - social or physical.

Capability - psychological or physical.

Motivation - reflective or automatic.

Restriction

Using rules or laws to change behaviours.

Opportunity - social or (indirectly) physical.
DESIGNING AND DELIVERING INTERVENTIONS.
The creators of the BCW framework suggest several steps to designing a behavioural change intervention.
Understand target behaviour and audience:
Define the problem in behavioural terms

Select target behaviour (what you will change to address the problem)

Specify target behaviour (what, where, when, how, with whom, in what context…)

Understand what needs to change to achieve the target behaviour (using COM-B or TDF.)
Identify potential interventions

Identify behavioural change techniques
Select mode of delivery

Select policy categories
What isn't captured in the above list, is the process of using Split Tests, Prototypes and broader experimentation to asses which of the interventions will have the most impact on your target group, in your unique context. That said, the BCW creators do suggest applying their APEASE model for assessing which interventions and policies to implement which stands for Acceptability, Practicality, Effectiveness, Affordability, Spillover effects and Equity.
IN YOUR LATTICEWORK.
Similar to many behavioural change models, it's worth considering this framework in the context of Behavioural Economics and Kahnenman's Fast and Slow Thinking. It works well with other change-relevant models such as the nudge-inspired EAST Framework, as well as the Habit Loop, Systems vs Goals, and Ulysses Pact.




Share this model with your network to be smarter, faster, together!
Actionable Takeaways
Identify the desired outcome, audience and target behaviour.
This is your starting point, where you need to identify an audience group and establish the target behaviour you want to develop, with a clear understanding of what outcome that would give you.
Apply COM-B to identify key behavioural opportunities.
Once you have identified your target behaviour, explore what blockers your audience has to adopt that behaviour by using the COM-B model. Refer to the questions in the table in our summary as a starting point. You can become more granular in your analysis by using the sub-elements and TDF.
Identify and test potential interventions.
Once you have identified relevant COM-B areas, use the table of interventions to establish possible activities. Ideally, you'd develop a combined strategy of such interventions and experiment to see which of them have the most impact on supporting the adoption of your target behaviours.
Explore More
COM-B & Behaviour Change Wheel is featured in these playbooks:
There have been some critics of the BCW approach in it assuming that its taxonomy and measurement imply that a consistent approach to behavioural change can be applied when individuals and specific contexts make such generalisations problematic. Defenders of the approach will point out that the framework will still provide a consistent language and categorisation approach, even though each intervention needs to be contextualised and tested.
The Clean Your Hands Campaign for Nurses.
Dr Susan Michie, who co-developed the Behaviour Change Wheel, was involved in a 'Clean Your Hands' campaign to support nurses to wash their hands regularly. Some of the intervention elements included:
Capability - while nurses already knew how and were able to wash their hands, the training intervention focused on supporting staff to set personal goals, observe their own behaviour, and develop action plans in relation to washing hands.

Opportunity - alcohol hand rubs were placed next to every bed.

Motivation - the campaign involved motivational posters which also served as nudge reminders, plus the encouragement for patients to ask nurses whether they had washed their hands.
This model will help you to:

My Notes
Oops, That's Members' Only!
Fortunately, it only costs US$5/month to Join ModelThinkers and access everything so that you can rapidly discover, learn, and apply the world's most powerful ideas.
ModelThinkers membership at a glance:

UNLOCK EVERYTHING
Access all mental models and premium content.

BUILD YOUR LATTICEWORK
Save models to your personal list.

QUICKLY MEMORISE MODELS
Use our Learn function to embed models to memory

PERSONALISE MODELS
Add your own notes and reminders.

BUILD YOUR 'EXTERNAL BRAIN'
Discover a new idea? Capture it by adding a new model.

JOIN THE MT COMMUNITY
Rate models, comment and access exclusive events.
"Yeah, we hate pop ups too. But we wanted to let you know that, with ModelThinkers, we're making it easier for you to adapt, innovate and create value. We hope you'll join us and the growing community of ModelThinkers today."
Arun Pradhan & Shai Desai
CoFounders, ModelThinkers.
You Might Also Like:
- Actionable summaries of the world's most powerful ideas.