Popular searches
Categories
Learn & Achieve
Collaborate & Lead
Deliver Value
Make Better Decisions
Industry Knowledge
Live Well
Sub categories
Be more productive
Learn & grow
Behavioural economics
Innovate
Collaborate & influence
Manage projects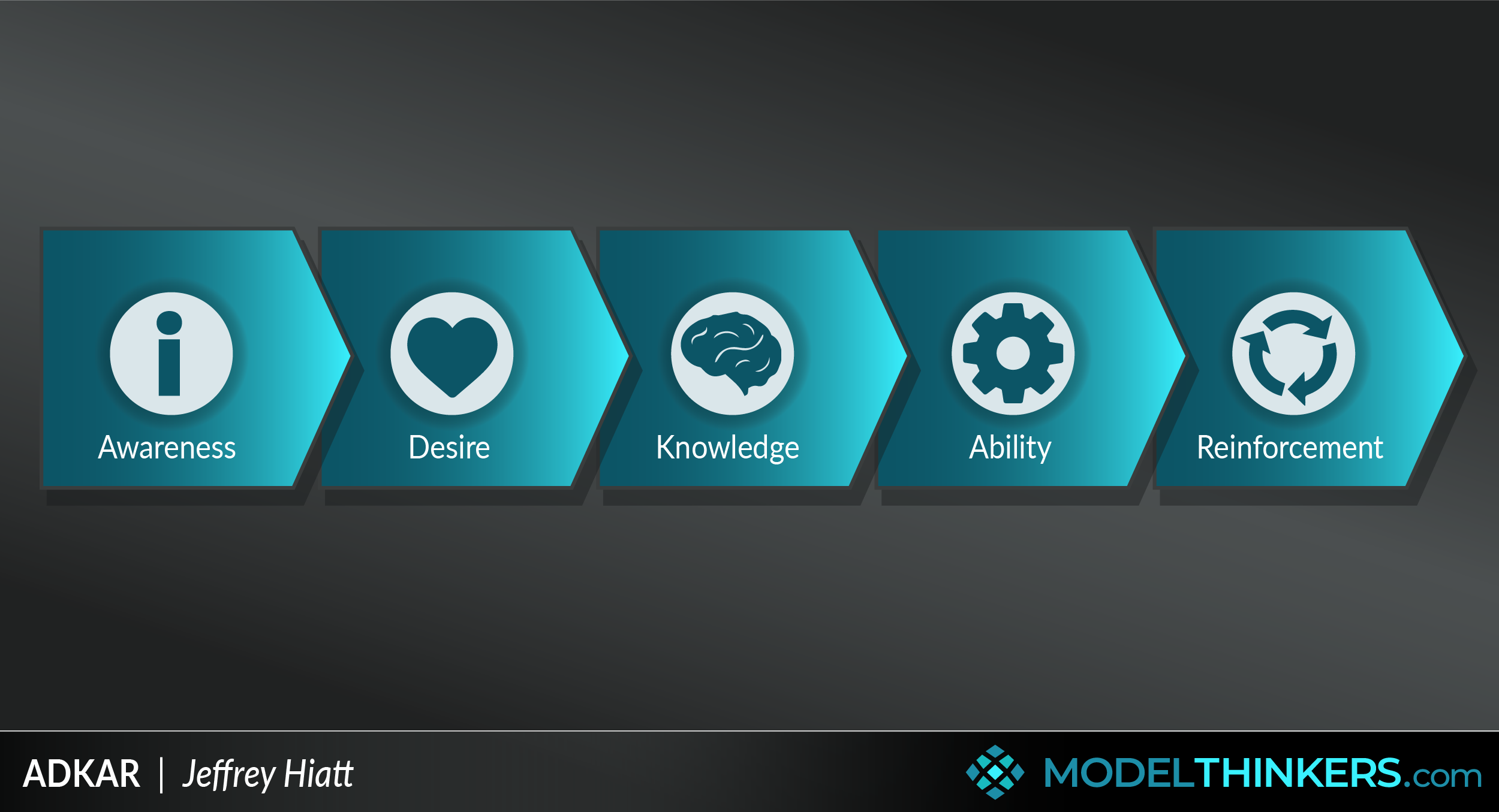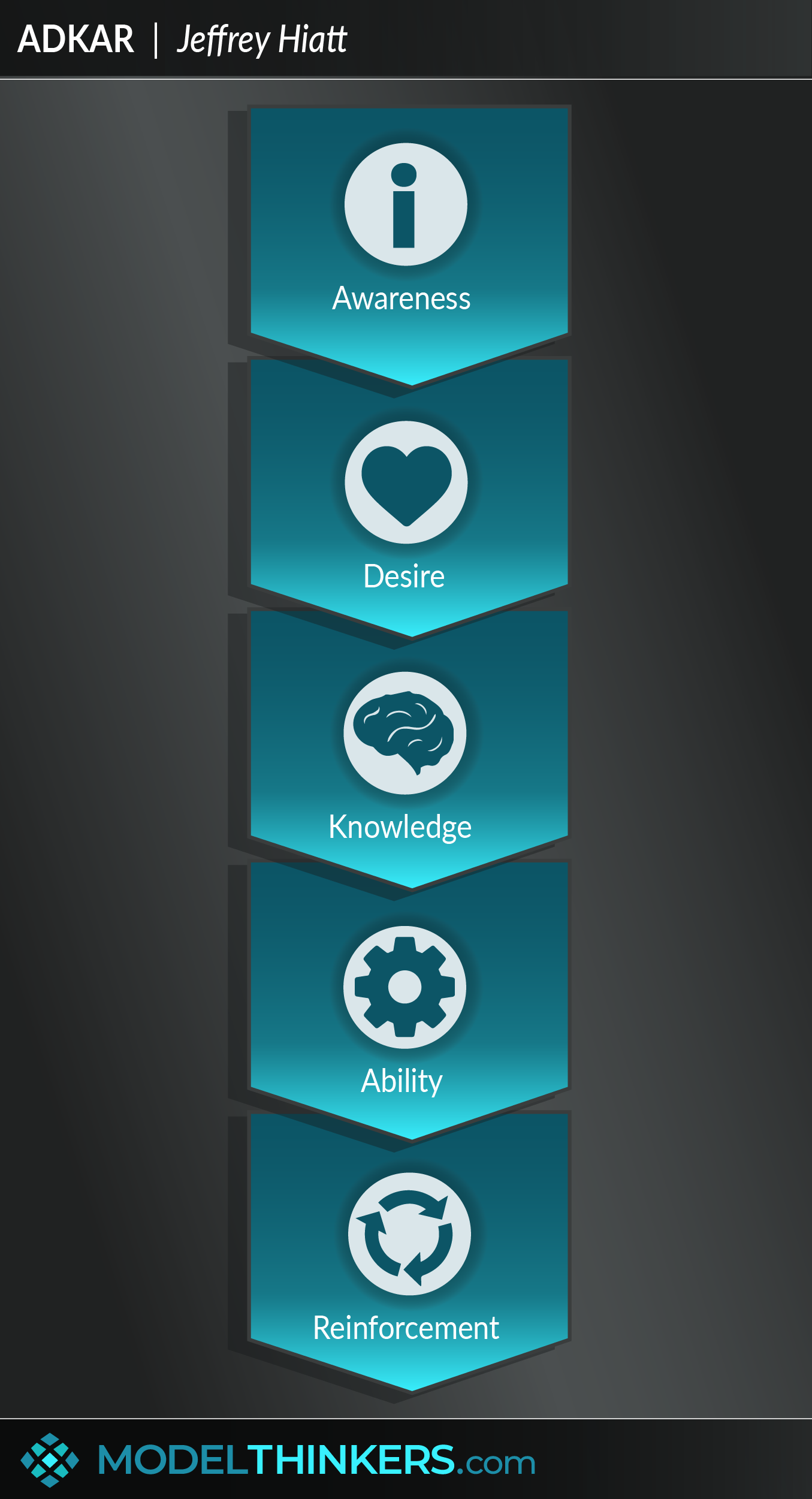 0

saved

8.2K views
Share this with your network




Share this with your network




Overview
The most cited reasons for change project failure are, not surprisingly, about people and their resistance to change. This model is a popular option to help address that and can be applied on a personal or organisational level.
The Prosci ADKAR model name stands for it's five key outcomes: awareness; desire; knowledge; ability; and reinforcement. It represents an individual-centric and goal-orientated approach to change management.
THE FIVE PHASES.
These five elements are typically used in a sequential process as part of a change campaign, but can also be used as a checklist or diagnostic tool to understand and overcome people's resistance to change. Looking at each goal in more detail, though refer to the takeaway section for more practical advice:
Awareness of the need for change.
Desire to support the change.
Knowledge of how to change.
Ability to demonstrate skills and behaviours.
Reinforcement to make change stick.
INDIVIDUAL CENTRIC.
ADKAR is described as 'individual-centric' because it aims to manage individual change through a relatively bottom-up approach. It's a flexible model that can be used to guide action for personal changes; in small, localised initiatives; and broad, enterprise-wide initiatives alike.
Use the ADKAR checklist and worksheet in the tools section to implement ADKAR in your context.




Share this model with your network to be smarter, faster, together!
Actionable Takeaways
Identify strategy, prepare team and sponsorship plan.
Before implementing ADKAR, or other change models for that matter, spend time defining the change management strategy by identifying the amount of change, audience groups and sponsors required for success. This also involves defining or gathering an appropriate change team to implement the process.
Identify key areas of focus and resistance.
Most change is disproportional. Consider which groups will be most impacted and what their likely level of resistance will be.
Assess/ build awareness of the need for change.
Describe the problem that the change is being designed to solve and, where possible, provide basic information about timing and support. This is often done as an information campaign, though is most effective as a dialogue, empowering people to see the reasons and needs for themselves.
Assess/ build desire to support the change.
Speak to the 'WIIFM' or 'what's in it for me' of your audience. Connect the change to their personal motivation. Line managers will play a crucial role to support those feeling less desire. Working with influential change leaders and advocates is also a powerful option to help build broader desire.
Assess/ build knowledge of how to change.
This should be done after the above two goals have been achieved. It involves providing detailed information about the change. Of how the new software functions, the new process will work, or the new location details etc..
Assess/ build the ability to demonstrate skills and behaviours.
At this stage, your audience will have an intellectual understanding of the change but might not have the ability to implement or navigate it. Address this with training, coaching, practice opportunities, peer-based learning or other learning initiatives.
Reinforce to make the change stick.
Appreciate that successful change, left to their own devices, might be short-lived. Consider embedding with Habit Loops, and ensure that positive change is celebrated as a form of reward and support. This might also involve monitoring and correcting problematic examples of change.
Explore More
ADKAR is featured in these playbooks:
Some criticism of ADKAR lies in it's a sequential process that lends itself to a known endpoint and process, rather than being able to prepare for a more flexible, even uncertain, destination. Perhaps a more consistent criticism is that, by focusing on the people aspect only, the model does not scale well to broad complex transformations.
ADKAR at Texas A&M University.
This case study from Prosci outlines the implementation of ADKAR at Texas A&M where they were implementing Workday, an integrated HR and payroll system. This cloud-based alternative was expected to reduce costs, as long as the target audience effectively adopted it and did not continue to use legacy systems.
The change management team began the engagement by identifying change impacts and likely areas of resistance. They implemented key processes such as releasing key information before training and that the most impacted employees heard about changes three to five times before going live. They also implemented a coaching program over a 13-week period to address the most common issues.
The team addressed a key area of resistance through executive sponsorship and even formalised it in an executive advisory committee, providing feedback on plans and prototypes moving forward.
This model will help you to:
Use the following examples of connected and complementary models to weave ADKAR into your broader latticework of mental models. Alternatively, discover your own connections by exploring the category list above.
Connected models:
Kano model, impact vs effort, and RICE: three strong alternative forms of prioritisation.
Complementary models:
Deliberate practice: in developing skills.
Thinking fast and slow, the EAST framework and habit loops: understanding how people think and change.
Psychological safety: a key underlying need behind change.
Hero's journey: in understanding and expressing epic level change journeys.
Empathy map and journey maps: tracing a human centric view.

My Notes
Oops, That's Members' Only!
Fortunately, it only costs US$5/month to Join ModelThinkers and access everything so that you can rapidly discover, learn, and apply the world's most powerful ideas.
ModelThinkers membership at a glance:

UNLOCK EVERYTHING
Access all mental models and premium content.

BUILD YOUR LATTICEWORK
Save models to your personal list.

QUICKLY MEMORISE MODELS
Use our Learn function to embed models to memory

PERSONALISE MODELS
Add your own notes and reminders.

BUILD YOUR 'EXTERNAL BRAIN'
Discover a new idea? Capture it by adding a new model.

JOIN THE MT COMMUNITY
Rate models, comment and access exclusive events.
"Yeah, we hate pop ups too. But we wanted to let you know that, with ModelThinkers, we're making it easier for you to adapt, innovate and create value. We hope you'll join us and the growing community of ModelThinkers today."
Arun Pradhan & Shai Desai
CoFounders, ModelThinkers.
You Might Also Like:
- Actionable summaries of the world's most powerful ideas.