Popular searches
Categories
Learn & Achieve
Collaborate & Lead
Deliver Value
Make Better Decisions
Industry Knowledge
Live Well
Sub categories
Be more productive
Learn & grow
Behavioural economics
Innovate
Collaborate & influence
Manage projects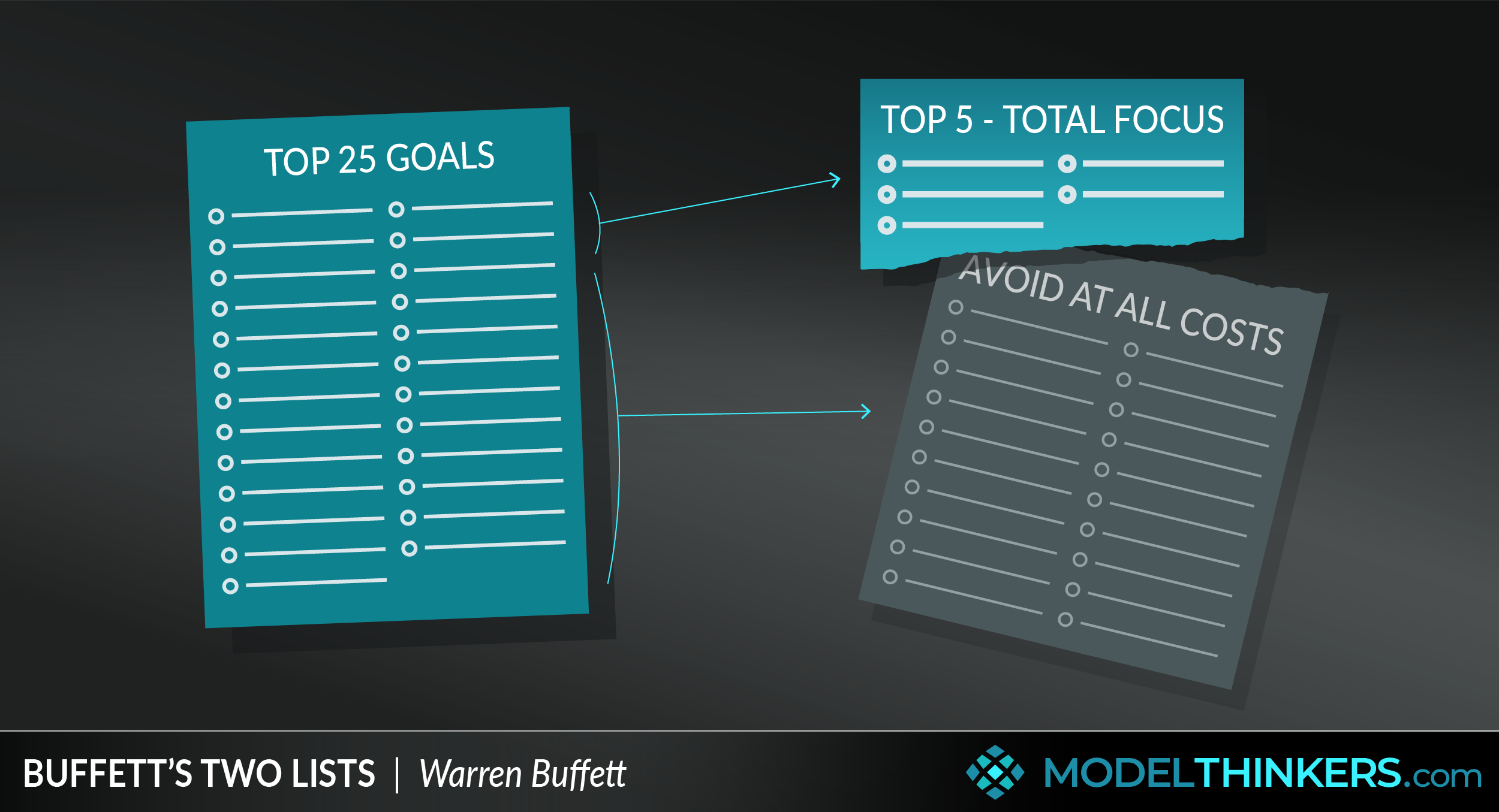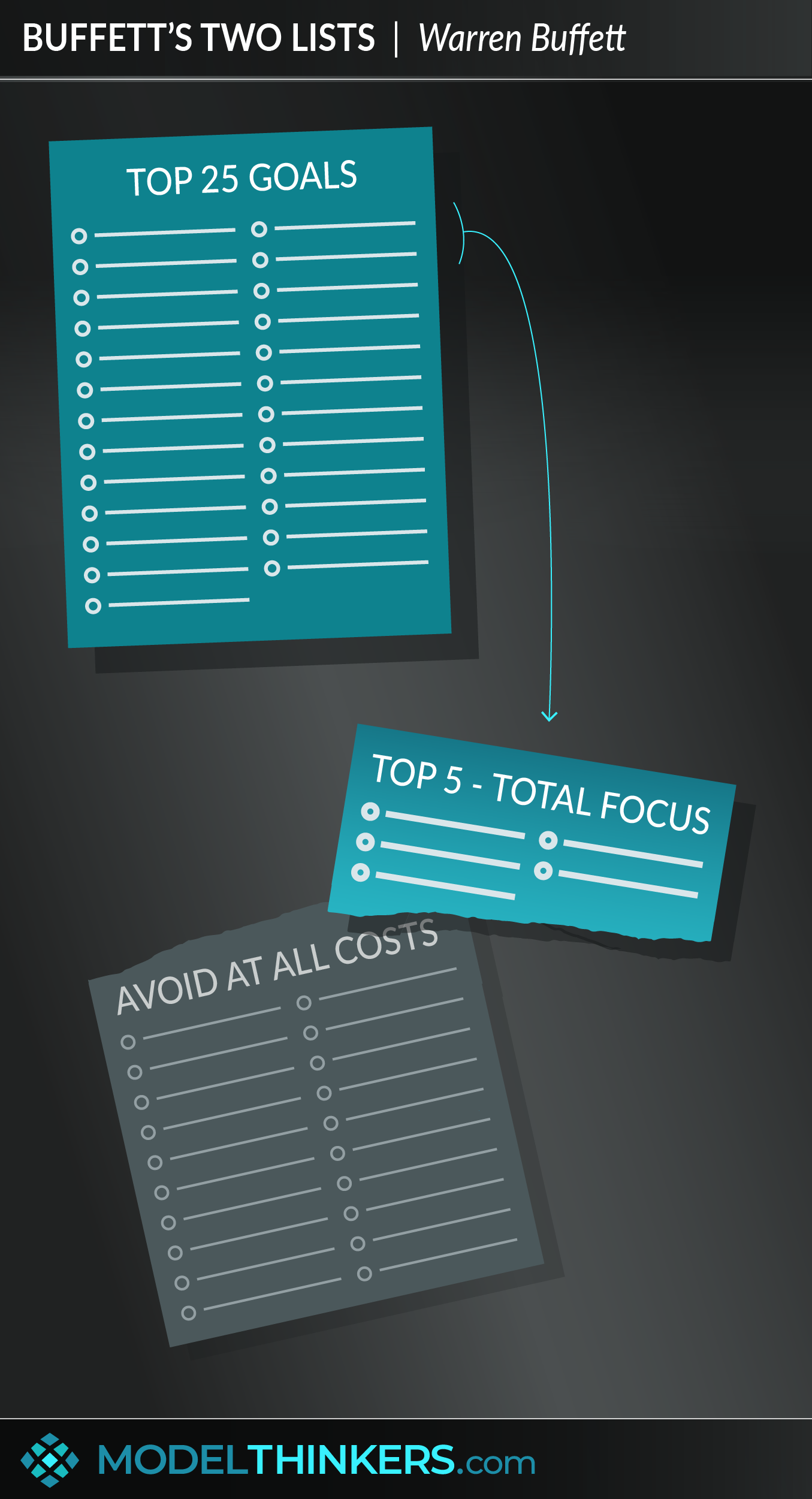 0

saved

24.4K views
Share this with your network




Share this with your network




Overview
"The difference between successful people and really successful people is that really successful people say no to almost everything." – Warren Buffett.
Like Charles Munger, Warren Buffett advocates for and uses the Latticework of Mental Models approach that drives ModelThinkers. Buffett's Two Lists model speaks to his ability to ruthlessly prioritise and say 'no' to tempting, even important tasks that take away from his main focus.
Buffett's Two Lists is a productivity, prioritisation and focusing approach where you write down your top 25 goals; circle your 5 highest priorities; then focus on those 5 while 'avoiding at all costs' doing anything on the remaining 20.
BACKSTORY: BUFFETT'S PILOT.
This model comes from a post by Scott Dinsmore who described a conversation between a Buffett and his pilot. According to Scott, when 'Steve', Buffett's pilot sought Buffett's advice, Buffett asked Steve to list the top 25 things he wanted to do in the next few years or even his lifetime. Once done, Buffetttt told Steve to circle his absolute top 5 priorities.
Steve assumed that he would focus on the top 5 but that he'd still find a way to work on some of the remaining 20, even in small ways.
RUTHLESS PRIORITISATION.
Buffett reportedly replied by saying: "No. You've got it wrong Steve. Everything you didn't circle just became your 'avoid at all cost list'. No matter what, these things get no attention from you until you've succeeded with your top 5."
IN YOUR LATTICEWORK.
Buffett's Two Lists is a prioritisation model, so has some connections to other prioritisation models including the Pareto Principle and Impact vs Effort Matrix.
You can combine it with the Circle of Competence to focus on and improving your strengths, indeed that combination is something that is a favourite of both Buffett and Charles Munger.
If you're finding it too hard to implement, you might also try and combine this model with Parkinson's Law to Timebox or implement Forced Functions on your list before rotating them — though I suspect Buffett wouldn't recommend that.




Share this model with your network to be smarter, faster, together!
Actionable Takeaways
Make a list of your top 25 priorities.
You might apply this to a specific project or timeframe, or consider your broader life goals.
Circle your highest 5 priorities.
These are the things that must be accomplished and drive you.
Focus on your top 5 and avoid the other 20 at all costs.
This isn't just about what you do, it's about how you say no to those tempting secondary priorities to achieve real focus.
When you achieve 1 of your top 5, add a new goal from the 20.
This list is a work in progress, something on the 'avoid at all cost' list might become a priority as you achieve your top 5.
Explore More
Buffett's Two Lists is featured in these playbooks:
While this dedicated focus is potentially powerful, by avoiding the 20 lesser priorities you might miss opportunities to find links or move them forward in the process of working on your 'big 5'. It might also be too inflexible, and not allow for updating priorities or taking advantage of opportunities that might open up making your '20 list' more possible or desirable.
Buffett.
In some ways, this seems to link with the way Buffett and Munger apply the circle of competence. They seem to practice ruthless prioritisation. That said, it's hard to track down specific examples of this model as it would involve what Buffett has not done.
This model will help you to:
Buffettt's two list model is a simple mental model that can be life changing if applied to life goals.
Use the following examples of connected and complementary models to weave Buffett's two list model into your broader latticework of mental models. Alternatively, discover your own connections by exploring the category list above.
Connected models:
The pareto principle: in identifying highest value options, or your 'top 5'.
Eisenhower matrix: in identifying high priority and high importance.
Kano or RICE score: in applying prioritisation to product development.
Complementary models:
Kanban: tracking priorities in a more dynamic, iterative approach.
Golden circle and Ikigai: in establishing purpose.
As noted in the overview, this model comes from Scott Dinsmore's post here. I'm aware that it's essentially a third-hand story - from the pilot to Scott, to us. But it's grown in popularity and Buffett hasn't corrected it. Either way, it's a useful model for prioritisation so worth the inclusion.

My Notes
Oops, That's Members' Only!
Fortunately, it only costs US$5/month to Join ModelThinkers and access everything so that you can rapidly discover, learn, and apply the world's most powerful ideas.
ModelThinkers membership at a glance:

UNLOCK EVERYTHING
Access all mental models and premium content.

BUILD YOUR LATTICEWORK
Save models to your personal list.

QUICKLY MEMORISE MODELS
Use our Learn function to embed models to memory

PERSONALISE MODELS
Add your own notes and reminders.

BUILD YOUR 'EXTERNAL BRAIN'
Discover a new idea? Capture it by adding a new model.

JOIN THE MT COMMUNITY
Rate models, comment and access exclusive events.
"Yeah, we hate pop ups too. But we wanted to let you know that, with ModelThinkers, we're making it easier for you to adapt, innovate and create value. We hope you'll join us and the growing community of ModelThinkers today."
Arun Pradhan & Shai Desai
CoFounders, ModelThinkers.
You Might Also Like:
- Actionable summaries of the world's most powerful ideas.